Meals on Wheels South Florida – Delivering Love
22
22 people viewed this event.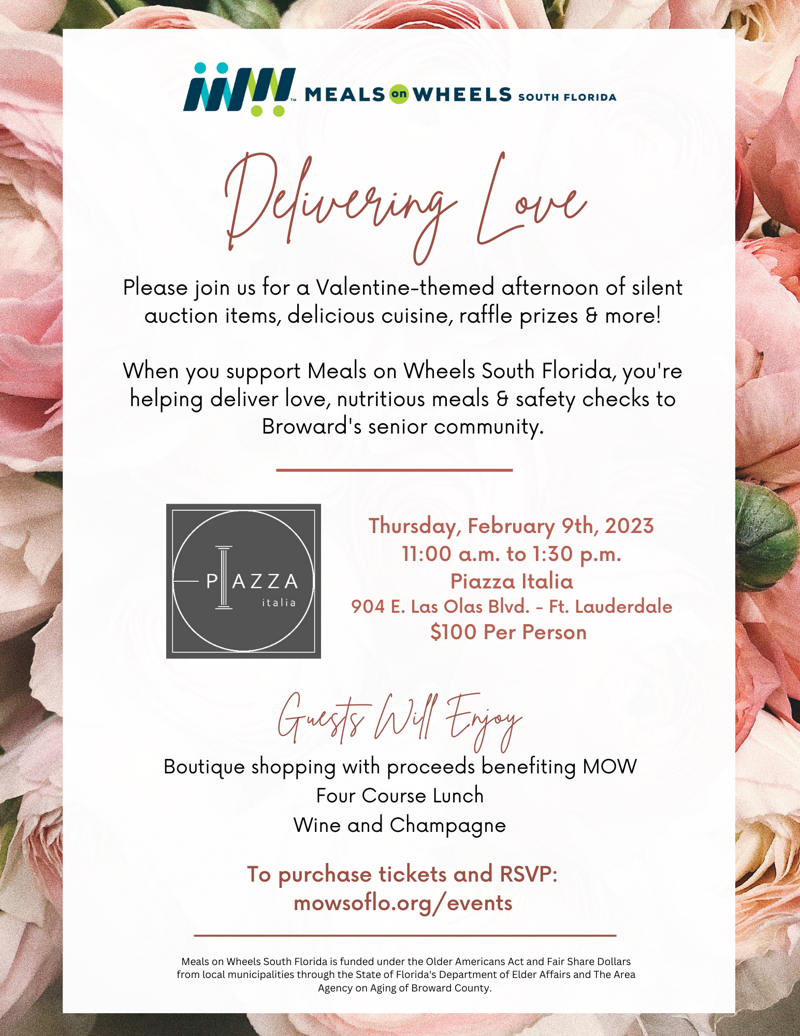 Please join us on February 9th from 11:00 a.m. to 1:30 p.m. for a Valentine-themed afternoon of silent auction items, delicious cuisine, raffle prizes & more! When you support Meals on Wheels South Florida, you're helping deliver love, nutritious meals & safety checks to Broward's senior community.
Event Information:
Piazza Italia
904 E. Las Olas Blvd, Fort Lauderdale
11:00 a.m. to 1:30 p.m.
Guests Will Enjoy:
-Boutique shopping with proceeds benefiting Meals on Wheels South Florida
-Four Course Lunch
-Wine and Champagne
To purchase tickets and RSVP, please visit www.mowsoflo.org/events
—————————-
Questions? Contact madler@mowsoflo.org, jwescott@mowsoflo.org or call 954.731.8770.
—————————-
Meals on Wheels South Florida Funding Statement:
Meals on Wheels South Florida is funded under the Older Americans Act and Fair Share Dollars from local municipalities through the State of Florida's Department of Elder Affairs and The Area Agency on Aging of Broward County. The generous support from The Jim Moran Foundation, Jewish Federation of Broward, United Way of Broward, the Children's Services Council, the cities of Tamarac and Pompano and Private Donations allows us to provide meals and services to those in most immediate need who would otherwise be placed on the ever-growing waiting list for home-delivered meals.